Here's some pictures of my Random Afghan.
Forgive these pictures, it's raining down here so the lighting not so good..
Here's the link to the pattern
I would like to make an afghan out of just this of different sizes one day.
(Out of a natural yarn and not acrylic's!)
Granny Square
This one is just a Granny Square. I just changed the color every row, alternating between variegated and solid yarns.
This is the same pattern as the top.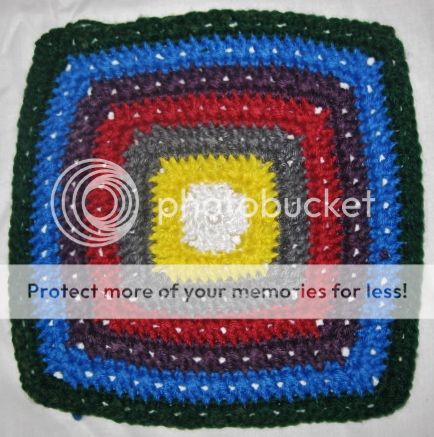 Just different colors!
I really like this Circle in a square! I made quit a few of these...
Plum Blossoms Square.
And this is my FAVORITE!!! Isn't it neat?! I love these way the it's so ... So.. i don't know .. Awesome?!
It's the "Plum Blossoms" Square from the book Favorite Motif Afghans.
"On the Huh Square"
You can get the pattern for this amazing square set on edge
Here
Link for Flower squares
And my Granny with Flowers! There so FUN to make!
As you can see the flower's "Puff" up!
One of the parts I'm starting to piece together.. I didn't like the way the greens was making it pull.. So I pulled it out and re-did it and it's lying much smoother now!
Close up of my favorite Circle! And my polka dot scissors and wood handled hook!
The colors off in this picture, these scissors are my favorite, there bright green, and make me happy!

Well that's all for now.. Hopefully a post coming soon on a dress that was Ordered!
Have a Good Monday!